Vigo D'Arsouilles  BWB ch 172cm 1998     
Nabab De Reve SF W-106995-VB.BWP br 172cm 1002     
Quidam de Revel  SF b 169cm 1982     
Melodie En Fa SF ch 1978      
Illico D'Arsouilles BWP ch 1985      
Fleuri Du Manoir  SF (FR) BWP  ch 172cm 1971       
Venzin D'Arsouilles  BWP ch 1975      
For Life Hero BWP 2005      
For Pleasure Hanoverian 1986      
Furioso II SF dk ch 167cm 1965      
Gigantin  Hanoverian ch 1980     
Ragance Hero Belgium Sport Horse 2001     
Jarnac de La Bonnette 1993      
Fragance de Chalus SF 1993  1.40cm Springen     
Noble Pleasure AASJ 2018 Colt SOLD

Colt Chestnut Born 2018
General Comments
Our first foal for 2018, colt born 14 April by Vigo D'Arsouilles x For Pleasure. SOLD
This foal has blood and is a super nice individual. Noble Pleasure AASJ has been SOLD at the Foal Auction Prinsjesdag on the 11th September 2018.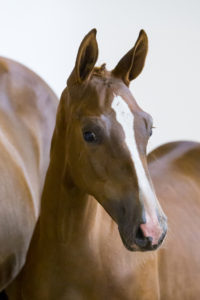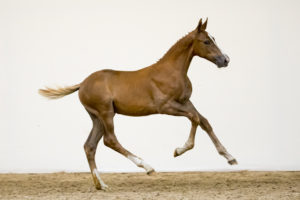 Sire
Vigo D'Arsouilles is a son of Nabab de Reve and out of Fleuri du Manoir.  A world champion showjumper himself by one of the world's best stallions at the time, Vigo D'Arsouilles is one of the new rising stars of European breeding.  He has produced international winners such as Ego Van Orti ridden by Edwina Tops Alexander, Dixson ridden by Ian Millar, Super Trooper de Ness ridden by McLain Ward, Vagabond de  la Pomme (out of a For Pleasure mare) Golden Hawk ridden by Shane Breen to name a few.
He is a well developed horse out of a strong dam-line, his career record speaks for itself.  His offspring have gained impressive results.
Dam
For Life Hero (For Pleasure x Jarnac De La Bonnette) has produced 4 colts and 1 filly for us during her breeding career.
Her dam line is outstanding with the awesome bloodlines of Fragance de Chalus, a producer of top horses such as Mylord Carthago, Bamako de Muze, Arc en Ciel de Muze, Hugh Grant de Muze , Farfelu de Muze.
For Life Hero's bloodlines matched with the pedigree of Vigo D'Arsouilles would appear to be the balance of a potential top sport horse.