Untouchable  KWPN 2001 Level:1.60m     
Hors la Loi II  SF  1995  Level: 1.60m   
Papillon Rouge SF  1981    
Ariane du Plessis II SF  1988    
Promese  KWPN 1997      
Heartbreaker   KWPN 1989  Level:1.60m       
Chablis  Holst 1994      

| | | |
| --- | --- | --- |
| Capriola HE  KWPN Mare dk Br VB prok 2007       |       | |

Mr Blue  KWPN  1988 Grey 1.68m Level:  1.60m sj    
Couperus  KWPN  1984 Brown Level: 1.60m  sj 
Acarla  KWPN  1982 Grey 1.65m   prest ster
Sylvinia  KWPN  Elite prest prof 1999 Bay 1.72m  
Grosso Z Hann  1983 Dark brown 1.70m    
Davinia  KWPN  Keur pref prest 1985 Brown 1.65m   
NIHAL AASJ 2018 Untouchable x Mr Blue x Grosso Z KWPN

Colt Bay/Grey Born 2018 N/A
General Comments
A stunning big strided colt by Untouchable out of our mare, Capriola HE (Mr. Blue x Grosso Z).
By Untouchable who counts among the most popular stallions in France and worldwide, with his progeny soaring the foal and embryo auctions. Untouchable is by the French top sire Hors La Loi II, grand sire is Heartbreaker. Untouchable's  descendants have outstanding quality, being the sire of international winners. Notably, Untouched, (Level: 1.60m sj) approved and sold at auction for Euros 300,000 in 2009. He has also sired the Holsteiner approved stallion, Uriko (formerly Clooney) (Level: 1.50m sj)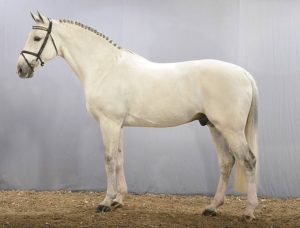 Untouchable
Nihal AASJ is  strong backed with powerful hindquarters often demonstrated in Untouchable's offspring. This foal has quality and prescence.  We look forward to his future.
https://www.horsetelex.com/horses/pedigree/2023497/nihal-aasj
This colt is a half brother to:
Blue Love True (Toulon) SOLD
Prescilla 2015 mare (Presley Boy)
Marvela AASJ 2017 filly (Comme Il Faut)
2018 filly by Quasimodo van de Molendreef  (AI/ET)
This colt is a very good foal and we shall look forward to his future.