Quasimodo vd Molendreef  BWP 1993    
Heartbreaker  KWPN Level: 1.60m    
Nimmerdor KWPN Level: 1.60m      
Baracole  KWPN 1983      
Jarme van't Steentje BWP 1986     
Lys de Darmen SF   1977     
Freja  BWP 1982     
Capriola HE  KWPN 2007 Mare Dk Brown 1.70m VB prok     
Mr Blue    KWPN 1988 Grey 1.68m Level 1.60m sj     
Couperus  KWPN    1984 Brown Lic:KWPN Level: 1.60m sj
Acarla  KWPN    1982 Grey 1.65m prest ster
Sylvinia  KWPN 1999 Bay   Elite prest prok   
Grosso Z   Hann  1983  Dk Brown 1.70m
Davinia      KWPN 1985 Brown 1.65m keur pref prest
Offspring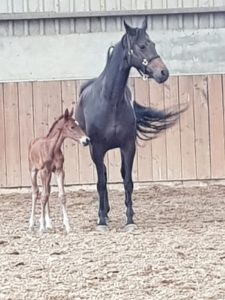 Nifty AASJ Filly 2018 Quasimodo van de Molendreef x Mr Blue x Grosso Z KWPN

Filly Bay Born 2018 N/A
General Comments
Capriola HE gives us another filly this year AI/ET Quasimodo van de Molendreef x Mr Blue x Grosso Z.
Quasimodo's sire is the well-known Heartbreaker and grand sire is the valuable stallion Lys de Darmen. Quasimodo has been a Grand Prix jumper, winning the GP of Lons le Saunier; was 3rd in the GP of Vigo, 4th in the finals of the Sire of the World in Den Bosch, 2nd in the Sires of the World in Mechelen.
His best know offspring is Hello Sanctos ridden by Scott Brash and held the No.1 position in the world show jumper rankings and made history by winning the Rolex Grand Slam.
Quasimodo has also proved that at the Mare & Foal shows his offspring perform well.
He has also brought several approved stallions.  The BWP Studbook has honored Quasimodo van de Molendreef as 'Ambassador'.