Starpower TN Hanoverian 2008    
Stakkkato Hanoverian b 165cm 1993      
Spartan  Hanoverian  gr 16.2hh 1982   
Pia  Hanoverian    br 165cm 1989
Enjoy Hanoverian      Gr
Escudeo I Hanoverian    blk 166cm 1991 
Wyoming  Hanoverian  gr 1986   
Willisa-Rosa  KWPN 2003  Ster     
Emilion  Holsteiner   b 170cm 1986   
Wellington KWPN    b 164cm 1980 Keur 80 6332 STB 
Ramirha  Holsteiner     b 170cm 1980 20088 STB WPN
Royal-Rosa  KWPN    1998  
Damiro B  KWPN      b 170cm 1985 Internationales Springpferd
Kurosa  KWPN  1992 93.333 STB WPN    
Jackpot MFS – For Sale

Gelding Dark Bay Born 2014
General Comments
2014 Gelding By Starpower TN x Emilion.  This striking gelding is now being produced by Brian Cassidy in the UK and training in progress for an early 5 yr old campaign.
By Starpower TN (Stakkato x Escudo I) out of the Prestatie KWPN Mare – Willisa Rosa (Emilion x Damiro B x Concorde).  Starpower was approved by the KWPN with a score of 87 points, inc 9 for rideability, attitude and talents as a showjumper.  Starpower's offspring catch the eye, as can be seen with Jackpot.
The dam, Willisa-Rosa, (Awarded Prestatie by KWPN), of Jackpot MFS has produced W Diva Rosa MFS  (Level 160m sj),  Don Junior MFS 1.30m, I'm One In Emilion  5 yrs gelding sold to Kelly Cregg and Brian Cassidy.
Sire
Starpower TN became the champion of both the 70 day test in Prussendorf at the KWPN Performance Test. Approved with a score of 87 points, including a 9 for reflexes, rideability and attitude and talent as a showjumper.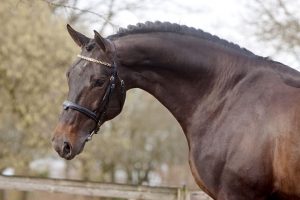 He made his international debut last year.  At the World Championships in Lanaken for 7 year olds, Starpower TN showed his enormous scope and potential for the major Grand Prix level.
His oldest offspring catch the eye with their scope and easy way of jumping and out of his first crop, already two sons were invited for the second round of the KWPN Stallion Selections.