Wallenberg Hann 2003   Level: 1.50m    
Stakkato Hanoverian    Level: 1.60m  
Spartan Hanoverian      
Pia Hanoverian      
Asulina Oldenburg  1995    
Libero H Holsteiner       
Cliffy Oldenburg   1989   
Willisa-Rosa KWPN    2003   
Emilion KWPN  Level 1.60m    
Wellington KWPN  1980    
Ramirha Holsteiner 1975      
Royal Rosa  KWPN  1998    
Damiro B KWPN  Level: 1.60m    
Kurosa KWPN    1992  
W Diva Rosa MFS Hanoverian

Mare Grey Born 2008
General Comments
Diva is quite the Diva she moves so fluidly you just want to watch her. She is a big boned mare with a great character. She comes from a very good dam line. Diva was ranked 1st Premium Foal and qualified for the "Elite BEF Show 2008".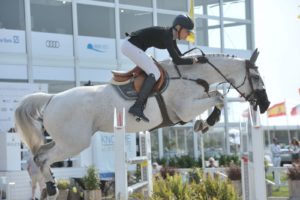 Diva Rosa MFS is the dam of Meraki AASJ 2017 Colt by the outstanding sire, Ultimo van ter Moude, who is producing top foals.
Results
https://www.hippomundo.com/results/horse/513227
Sire
Wallenberg, sold to the USA  (2003)  combines the famous Stakkato and Libero H. The famous Hannoverian stallion Stakkato has produced numerous winners Satisfaction ridden by Eva Bitter and now by Marco Kutcher, Souvenir Philipe Weishup, Stakkato Gold, Stakkato Whizz, Shakira ridden by Emirati rider Mohammed Al Hajari and many more.
Dam
Willisa Rosa has awarded "Provisional Keur" by KWPN studbook. She ranked 14th as a 3yr old at her Central Keuring, she scored a 75 for conformation and for her outstanding jumping a score of 80. With a jumping index of 150 and ranked 431 out of all mares. We are very proud to have one of her offspring and in the future carry on this exceptional dam line.
Willisa Rosa is daughter of Emillion the famous KWPN stallion winner of the world cup at Mill Street (Ireland) ridden by Ulli Kirchhoff and placed in many nations cups and Grand Prixs.
Emillion's grand dam is the full sister of the famous foundation sires in Holstein. This dam line produced many top horses and Emillion himself sired the spectacular mare, Europeean Silver Medalist in Windsor Seldana di Campalto ridden by Gianni Giovani and Silver medalist at the WEG 2010 ridden by Saudi rider Abdallah Al Sharabtly. Some other successful horses by Emilion are; Glasgow ridden by Norman Della Joio in the US, VDL Edmonton, Karina, VDL Tomboy, Ukinda ridden by Hugo Simon and many more…